Mini Dental Implants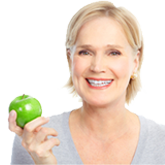 Do you or someone you know…………
….have difficulty in keeping the dentures secured in the mouth?
….feel their dentures loosen while eating or talking?
….have to constantly use denture adhesives to support the dentures?
A Mini Dental Implant system is the most recent technologically advanced solution for denture users. It is a minimally invasive procedure, which immediately stabilizes loose dentures. This quick & almost pain free procedure has been clinically proven and indicated for long-term denture stabilization.
Mini Dental Implant treatment involves one visit with Dr. Daftary, during which the implants are placed in the upper or lower jaw bone under basic local anesthesia. Your existing dentures are then adapted to snap on these mini implants. Each Mini Implant consists of a miniature titanium implant that acts like the root of the tooth which helps in securing your denture firmly to the jaw bone. At the end of the procedure, which takes less than 2 hours, you will leave our office feeling more confident with your dentures as you talk, and you will be ready to eat your favorite meal without any messy adhesives.
Call our office for a complimentary consultation visit with Dallas Implant Dentist, Dr. Daftary to find out if Mini Implants are a solution to your denture problems.