Look & Feel Younger, Sexier, More Attractive…..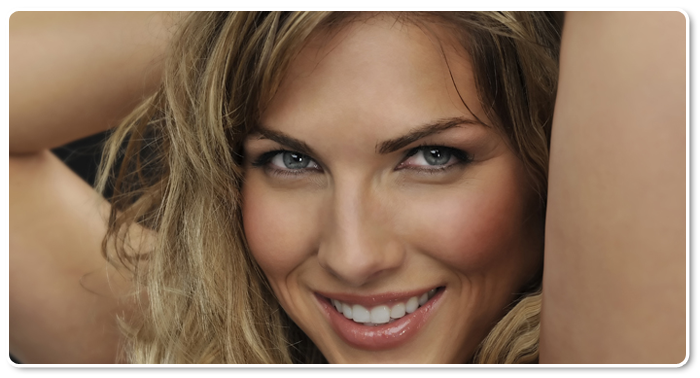 Treat yourself to a gorgeous, model-like smile….a smile that will turn heads… a smile that says, "I care about myself."
Why smile enhancement?
Throughout the history of mankind, the quality of a smile has been an indication of an individual's sense of well-being. A beautiful smile with healthy teeth and gums can improve your self-esteem and give you greater confidence, changing the way others see you and most importantly, how you see yourself. You use your teeth every time you smile, laugh, kiss, speak, chew, and in every professional and social situation.
What can Cosmetic Dentistry do for You?
If you are among the many people who limit your expressions of happiness because you worry about a less-than-perfect smile, you will be interested in learning more about cosmetic dentistry! Breakthroughs in technology have made a beautiful smile more affordable and attainable than ever before. Celebrities and Hollywood personalities have long known that improving your smile can dramatically change your appearance, but today the benefits of cosmetic dentistry are being discovered by more and more people across the U.S. In addition to beautifying your smile, today's Cosmetic Dentistry procedures, give you a great smile, esthetically & functionally, with a long-lasting comfort, health, and appearance!
Can I Afford My New Smile?
Cosmetic dentistry procedures are elective, and therefore not usually covered by insurers. However, the modern technologies in this field have made it much more affordable today. When you meet with Dr. Daftary, she and her team members will inform you about the cost of your treatment option and the payment methods available to you. Our hassle-free third party financing program can also help you by spreading out the cost into low monthly payments.
Let Dallas Cosmetic Dentist Dr. Daftary, show you information on enhancing your smile. Dallas Veneers, Life-like dental crowns, 1-Hour Teeth Whitening, dental bonding for chipped or discolored teeth or any of her other smile enhancing specialties, such as General and Restorative dental procedures. Getting the smile of your dreams is easier than you think! Please contact Prestonwood Dental for your initial complimentary consultation.
The clinical photos of Smile Gallery are images of actual dental treatment rendered by Dr. Daftary at her North Dallas Dental office. View By procedures or view as a slide show: