Infection Control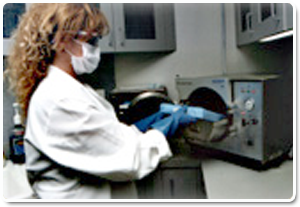 For the protection of our patients & the dental team members, all our dental treatment and services are performed using strict infection control measures to prevent the spread of diseases and infections. These include, but are not limited to:
Isolating the dental chair, light & other equipment in the treatment room with disposable infection control barriers.
Wearing disposable gloves and changing them between each patient.
Wearing face masks to prevent microorganisms form entering or leaving through the mouth and nose.
Wearing protective eyeglasses.
Using steam autoclave (Normally at 340 F) as a sterilization method to disinfect and clean the instruments.
Running weekly tests through North Bay Bioscience Lab to check the effectiveness of the sterilizer.
Meticulously wiping down the treatment room before and after every patient with specialized disinfectant solution.
Using disposable products when available to reduce the chances of cross-contamination.
Carefully discarding all disposables to minimize human contact.
Discarding needles and other sharp instruments in the bio-hazard waste disposal, by Stericycle, a professional company that carefully eliminates biohazard waste.
Every member of Dr. Daftary's professional team is committed to rigorously following the above precautions to ensure your protection from any bacterial and viral infections. These infection control procedures give an added assurance to our patients, our team members and their families. Please feel free to ask us for a tour of our sterilization area during your visit at our office.