Dr. Shweta G. Daftary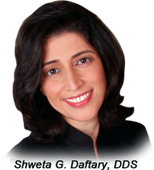 Shweta G. Daftary, DDS, has been practicing the art and science of dentistry since 1993. Dr. Daftary provides the finest quality dental care available today. Although she focuses on Cosmetic and Restorative Dentistry, she also offers an exceptional, full service dental practice. Dr. Daftary is best known for her ability to promote proper dental care and hygiene by relieving patients' dental-related fears and anxieties. "Our equipment is definitely ultra modern and high-tech," explains Dr. Daftary, "but our traditional approach is warm and friendly." She describes it as "advanced technology with a caring personality."
"These days, with so many new treatments and options available, there's no reason to settle for an outdated, less convenient approach to dental care," Dr. Daftary notes. To this end, she is committed to offering the latest, most effective treatment possible for everything from a simple filling to complex root canals and full-smile makeovers. "More options, more comfort, more quality of care – all in an affordable manner, these are our goals," sums up Dr. Daftary.
Dr. Daftary earned her Doctorate in 1993 from Loma Linda School of Dentistry in Southern California. She graduated with several awards including Professionalism and Clinical Excellence in Dentistry.
Dr. Daftary is one of the few recipients of the Omicron Kappa Upsilon (OKU) membership award. A very small percentage of graduating dentists in the USA are awarded membership to this national dental honor society. This membership is limited to those dental professionals who have distinguished themselves by excellence in scholarship, while demonstrating exemplary traits of character and potential qualities for future professional growth and attainments.
Dr. Daftary is a long-term member in good standing of the American Dental Association, Texas Dental Association and Dallas County Dental Society.
Here's what Dr. Daftary says about her practice ethics:
"My philosophy of dentistry is to treat every patient in a manner that I would expect to be treated; with candor, respect, professionalism and compassion.
The patient in my treatment room is the most important individual at that time and will receive my undivided attention and best possible dental care.
I keep up with constant changes in dentistry by taking continuing education courses and employing state of the art equipment, which enables me to provide my patients with the best treatment.
I sincerely value the professional relationships that have developed with all my patients as a result of this philosophy, qualifications and trust."
Areas of Expertise
Personal
Apart from her wonderful family of dental patients, Dr. Daftary keeps herself busy in her personal life. She is married and blessed with two beautiful children. She actively participates in many community events and volunteers her time at various dental health camps.